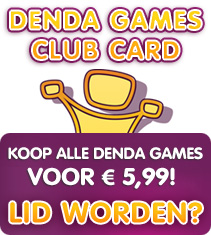 Top Gratis Downloads - Zoek en Vind
Zoek en vind spellen
Hou jij van het echte speurwerk? Dan ben je met de zoek en vind spelletjes van Denda Games aan het juiste adres! Gratis uitproberen? Download ze nu en begin direct met spelen.

Sorteren op:
Naam
Laatst toegevoegd

Alle zoek en vind spellen
Zoek en Vind Spelletjes
De echte casual gamer is gek op zoek en vind spellen, deze spellen zijn voor de echte speurneuzen met een scherp oog. In zoek en vind spellen moet je meestal voorwerpen gaan zoeken die verborgen zijn in verschillende ruimtes en moet aanklikken als je ze hebt gevonden.
Bij veel van deze zoek en vind spelletjes staat ergens in je scherm een lijst met daarop aangegeven welke artikelen/items je moet gaan zoeken. Voorbeelden van bekende zoek spelletjes zijn: "Samantha Swift", "Midnight Mysteries" en "Snark Busters"
Waar komen zoek en vind spelletjes vandaan?
Zoek en vind spelletjes komen voort uit verschillende speltypen, er zit altijd een bepaald gedeelte in het spel waarin de speler in een bepaalde ruimte artikelen moet gaan zoeken en deze moet aanklikken om ze daadwerkelijk in zijn bezit te krijgen. In zoek en vind spelletjes zit ook altijd een vorm van puzzelen, aan het einde van een level komt het vaak voor dat er nog een breinbreker moet worden opgelost om verder te komen in het spel. Het woord zoek en vind spellen komt dan ook van het Engelse "search and find" en "point and click".
Wat het spelen van zoek spelletjes ook zeer geliefd en aantrekkelijk maakt zijn natuurlijk de verre reizen en avonturen die door de spelers beleefd worden. In sommige van deze spellen vlieg je als avonturier de hele wereld over.
Zoek en vind spelletjes, hoe speel ik die?
Zoals in de voorgaande twee allinea's al wel duidelijk is geworden, lijkt het principe van een zoek en vind spelletje betrekkelijk eenvoudig. Niets is echter minder waar! Uiteraard is de basis van alle zoek spelletjes het zoeken en aanklikken van de items die gevraagd worden maar tegenwoordig is gewoon zoeken en klikken niet meer genoeg. Het komt steeds vaker voor dat de speler in verschillende ruimtes, losse delen van een bepaald item moet zoeken en dit uiteindelijk moet combineren om weer verder te kunnen. Dit kan bijvoorbeeld een sleutel zijn waarmee je weer een nieuwe deur kunt openen of delen van een grote diamant of een landkaart. Door deze vernieuwende vorm wordt het spelen van zoek en vind spelletjes nog leuker en interessanter. Bij Denda Games vind je vele verschillende spellen, deze spelletjes kun je zowel online als offline spelen. Hier kun je demo's of ook wel beter bekend "een uurtje gratis spelen". Wanneer dit uurtje afgelopen is kun je besluiten om het spel aan te schaffen zodat je de rest van het spel en de levels uit kunt spelen. Dit is natuurlijk een mooi en handig sysyteem om eerst even te kijken of je het spelletje leuk genoeg vind om het te kopen.
---