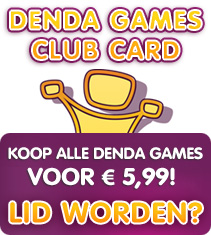 Top Gratis Downloads - Time Management
Time management spellen
Kun jij plannen en heb je veel inzicht? Dan kun met de time management spelletjes van Denda Games je hart ophalen! Download en probeer ze Gratis uit.

Sorteren op:
Naam
Laatst toegevoegd

Alle time management spellen
Time management spelletjes
De fanatieke casual gamer hoef je meer uit te leggen wat een time management spelletje precies is, het is een genre dat al vanaf het eerste begin aanwezig is op de verschillende game-portals en zodoende dus ook bij Denda Games.
time management spelletjes, zijn spellen die zoals de naam al doet vermoeden op "tijd" gebasseerd. In deze spellen is het meestal de bedoeling dat je bepaalde doelen haalt, veelal onder tijdsdruk. In time management spelletjes zoals bijvoorbeeld Farm Frenzy moet je onder tijdsdruk kippen voeren, eieren rapen en taarten bakken. In een vastgestelde tijd dus doelen bereiken op de boerderij!
Hoe zijn time management spelletjes ontstaan?
Sinds het ontstaan van de casual games/computerspelletjes bestaan er eigenlijk ook al time management spelletjes. Naast de andere bekende genres is Time Management niet meer weg te denken uit de online spelletjes. Jaarlijks worden er miljoenen time management spelletjes gespeeld door de fanatieke gamers. Zoals casual gamers zich graag verplaatsen in bijvoorbeeld avonturier "Samantha Swift" runnen ze minstens zo graag een boerderij of bouwen vrolijk mee aan een nieuw dorpje of stad. Een zeer bekend voorbeeld van een echt Time management spel is "The Sims".
Hoe gaat het spelen van een Time management nou eigenlijk in zijn werk?
Het basisprincipe van een Time managament spelletje is eigenlijk vrij eenvoudig, voldoe aan de vooraf gestelde opdrachten en doe dat binnen de tijd die daarvoor staat. In de praktijk is dat natuurlijk een stuk lastiger, wanneer je bijvoorbeeld de verwoeste eilanden in het time management spelletje Royal Envoy gaat proberen te herstellen zal je merken dat de tijd ineens je grootste vijand is. In het eerder genoemde Farm Frenzy worden ook doelen gesteld op tijd, wanneer je deze binnen de tijd hebt volbracht, krijg je daar afhankelijk van hoe lang je er over hebt gedaan een "bronzen", "zilveren" of "gouden" ster voor.
Wanneer je deze prijzen wint en tijd over hebt aan het einde van het level dan krijg je daar als speler ook nog eens fictieve muntjes voor. Met deze muntjes kun je dan weer bijvoorbeeld een broodbakmachine aanschaffen en dat kan weer een tijdsvoordeel opleveren in het volgende level. In time management spelletjes ben je continu een prachtig gevecht aan het leveren met de klok, ben je een echte "Time Manager" dan zit je hier goed!
---