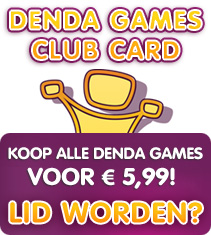 Top Gratis Downloads - Strategie
Strategie spellen
Ben jij gek op strategie spelletjes? Probeer dan Nu de leukste en meest afwisselende breinbrekers van Denda Games.

Sorteren op:
Naam
Laatst toegevoegd

Alle strategie spellen
Strategie spelletjes
In strategie spelletjes moet je meestal veel (strategisch) nadenken, je moet dus een strategie bedenken om het spel te winnen of uit te spelen. In de klassieke bordspelen kennen we natuurlijk de zeer bekende strategie spellen Schaken en Dammen. Hier moet je stap voor stap een strategische zet doen en reageren op wat je tegenstander doet. In de strategie spelletjes van Denda Games is het natuurlijk wel een beetje anders, hierin moet je natuurlijk wel vooruit kunnen denken en de juiste acties ondernemen maar het blijft natuurlijk een spel dat vooral ook leuk moet zijn. Enkele voorbeelden van strategie spelletjes zijn, Build a Lot en Land Grabbers
Waar komen strategie spelletjes vandaan?
In de oudheid werd er natuurlijk al geschaakt en het spel is dan ook al duizenden jaren oud. Strategisch denken en je tegenstander een stap voor willen zijn zit bij de mens in het bloed, het geeft een kick wanneer je iemand te slim af bent.
Speel maar eens een potje "Stratego" tegen een goede vriend of familielid, de meesten onder ons zijn bloedfanatiek. Door de komst van de "Personal Computer" kwamen er natuurlijk al snel computerspelletjes, de eerste vorm van een Strategie spelletje voor de pc was het zeer populaire mijnenveger. Vanuit deze gedachte zijn er in de loop der jaren vele strategie spelletjes ontwikkeld en zijn ze niet meer weg te denken uit de wereld van de casual games.
Hoe speel ik strategie spelletjes?
Het overgrote deel van de strategie spelletjes zijn een combinatie van strategie en time management. Er wordt van je verwacht dat je altijd een paar stappen vooruit kunt denken ten opzichte van of je tegenstander of de computer. Er zit in strategie spelletjes vaak een race tegen de klok, een bepaalde strategische opdracht moet dan binnen een bepaalde tijd worden voldaan. Een spel waar dit in voorkomt is bijvoorbeeld Royal Envoy hierin moet je als speler hout zagen om huisjes te bouwen, doe je dit snel genoeg dan zijn je huisjes op tijd klaar en verdien je een prijs, wacht je te lang met zagen dan krijg je de huizen niet op tijd af en haal je het level niet. En zal je opnieuw moeten beginnen. strategie spelletjes is een genre waar de echte Denda fan veel plezier aan zal beleven.
---