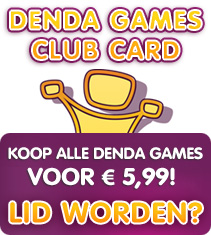 Top Gratis Downloads - Puzzel
Puzzel spellen
Helemaal gek op puzzel spelletjes? Gratis uitproberen? Download dan nu de geweldige breinbrekers van Denda Games en geniet van uren puzzelplezier!

Sorteren op:
Naam
Laatst toegevoegd

Alle puzzel spellen
Puzzel spelletjes
Doorgewinterde casual gamers zijn gek op puzzel spelletjes, deze spellen zijn leerzaam maar bovenal erg leuk.
Puzzelen draagt enorm bij aan de ontwikkeling en het fris en scherp houden van het brein. Door frequent te puzzelen ontwikkel je je vaardigheden en zal je na verloop van tijd steeds handiger worden in het oplossen van de echte breinbrekers. Er zijn puzzelspelletjes voor jong en oud, voor de jongeren zijn puzzelspelletjes als bijvoorbeeld "Cradle of Rome", "Jigsaw World" en "Ocean Express" voor de wat oudere puzzelaars zijn er puzzels als Sudoku en crytogrammen.
Waar komen puzzel spelletjes of het puzzelen eigenlijk vandaan?
De oorsprong van
puzzel spelletjes
ligt al in de 18e eeuw. Daar werd door kaartenmakers van weleer een oude landkaart op hout gespijkerd en vervolgens in stukjes gehakt, om vervolgens de mensen de juiste stukken weer bij elkaar te laten zoeken, de legpuzzel was geboren. Vanaf deze periode werden puzzels ingezet als educatiemiddel en werd het onderdeel van de lesstof voor kinderen.
Rond het begin van de 19e eeuw waren het de Engelsen die voor het eerst de puzzel als vermaak zagen en er daadwerkelijk puzzelspellen van maakten, in eerste instantie voor kinderen maar niet veel later ook voor volwassenen.
Puzzel spelletjes spelen, hoe doe ik dat?
Over het algemeen zijn puzzel spelletjes bedacht om bij de speler het brein eens even flink te testen en op te frissen. Omgaan met tijd, logica en inzicht zijn vaak de ingredienten voor een goede puzzelgame.
Puzzel spellen verschillen in de basis vaak niet zo gek veel van de bordvarianten, het voordeel van een puzzel spel spelen op de computer is dat je bijvoorbeeld geen pen bij de hand hoeft te hebben en het uitpakken en neerleggen van bijvoorbeeld Mahjongstenen normaal gesproken behoorlijk wat tijd, daar heb bij onze puzzel spelletjes dus geen last van.
Een ander voordeel van het spelen op de computer is dat er meestal ook een "hintfunctie" aanwezig is, deze kun je gebruiken wanneer je bijvoorbeeld vast zit in een level.
Er zijn duizenden online puzzel spelletjes te vinden op het internet, hier bij Denda Games zijn ze allemaal in te spelen in het Nederlands dus geen ingewikkelde Engelse teksten tussendoor maar gewoon in je eigen taal.
---