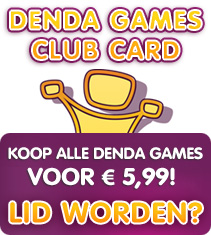 Top Gratis Downloads - Avontuur
Avontuur spellen
Ontdek de wondere wereld van de avontuur spelletjes! Deze spellen zitten boordevol minigames en puzzels. Download nu en probeer gratis een avontuur spelletje bij Denda Games!

Sorteren op:
Naam
Laatst toegevoegd

Alle avontuur spellen
Avontuur spelletjes
Een relatief nieuw maar inmiddels zeer populair genre zijn avontuur spelletjes deze spellen zitten zoals de naam al doet vermoeden boordevol avonturen, je weet nooit waar je in terechtkomt wanneer je aan een avontuur spelletje begint. Een echte uitdaging voor de doorgewinterde casual gamer.
Enkele voorbeelden van prachtig gemaakt avonturen spelletjes zijn: Nightfall Mysteries – Asylum Conspiracy en The Adventures of Robinson Crusoe
Waar komen avontuur spelletjes vandaan?
Elke speler van casual games kent natuurlijk de zoek en vind spelletjes, eigenlijk is het genre avontuur spelletjes daar een toevoeging op. Door het jarenlange succes van online spelletjes is de standaard van een game enorm omhoog gegaan, dat wil zeggen de kwaliteit is enorm verbeterd. De tijd van alleen maar voorwerpen zoeken en op naar de volgende ruimte voor een volgende opdracht ligt inmiddels ver achter ons. De meeste zoek en vind spelletjes zijn tegenwoordig van een zeer hoge kwaliteit. De komst van avontuur spelletjes zijn daar zeker belangrijk voor geweest, avontuur spelletjes zijn eigenlijk een mix van puzzel, zoek en vind en strategie spellen. Meestal zit er een reis aspect in, zoek je naar voorwerpen en zit er een echt verhaal(avontuur) in dat je als speler aan moet gaan.
Je vliegt als avonturier de hele wereld over op zoek naar voorwerpen uit de oudheid en probeert onopgeloste mystries te ontrafelen. De echte casual gamer kan met avontuur spelletjes zijn of haar hart ophalen!
Hoe speel ik avontuur spelletjes?
Avontuur spelletjes zijn er voor jong en oud, dat wil zeggen dat iedereen ze kan spelen. Zoals in de bovenstaande alinea vermeld zit er voor elk wat wils in een avontuur spelletje. De liefhebber van puzzelen kan naar hartelust aan de slag met de vele breinbrekers, ben je niet zo'n puzzelaar? Dan sla je de puzzel gewoon over. Een avontuur spelletje is van alle casual games genres misschien wel de meest pittige maar in bijna ieder spel zit een functie waarmee je bepaalde minigames over kunt slaan. In bijna alle avontuur spelletjes moet je je verplaatsen naar verschillende ruimtes om daar te zoeken naar ontbrekende objecten die je nodig hebt op je reis. Het combineren van verschillende objecten kan leiden tot het zichtbaar worden van verborgen deuren en het openen van gesloten schatkamers zoals bijvoorbeeld in The Treasures of Mystery Island. Je zal als speler dus goed moeten opletten wat je allemaal tegenkomt tijdens je avontuur want de kennis die je opdoet kun je zomaar eens hard nodig hebben wanneer je later in het verhaal vast komt te zitten. Gelukkig hebben bijna alle spellen een "hint-functie" dus wanneer je even niet meer verder komt dan is er altijd een manier om door te gaan.
---