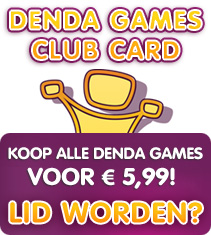 Top Gratis Downloads - 3-op-een-rij
3 op een rij spellen
Speel de leukste 3 op een rij spelletjes, probeer ze nu gratis uit en download de nieuwste spellen bij Denda Games!

Sorteren op:
Naam
Laatst toegevoegd

Alle 3-op-een-rij spellen
3 op een rij spelletjes
Iedereen heeft wel eens 3-op-een-rij-spelletjes gespeeld. In 3-op-een-rij-spelletjes is het de bedoeling om edelstenen, soorten fruit of andere symbolen te verwisselen en op deze manier drie van deze voorwerpen op een rij te krijgen. Wanneer je dit is gelukt verdwijnen deze symbolen en vallen er weer "nieuwe" items op deze plek. Voorbeelden van 3-op-een-rij-spelletjes zijn Jewel Quest III, Cradle of Rome 2 en Elements
Waar komen 3 op een rij spelletjes vandaan?
De meesten onder ons kunnen zich vast nog wel het bordspel 4 op een rij herinneren. Dit spel werd gespeeld op een verticaal geplaatst bord bestaand uit zeven kolommen en zes rijen. Je kreeg als speler 21 schijfjes, de rode of de gele. Om beurten liet je dan een schijfje in 1 van de nog niet gevulde kolommen vallen. Wanneer jij of je tegenstander vier schijven op een rij had, verticaal, diagonaal of horizontaal was het spel afgelopen.
Dit spel stond model voor de later inmens populaire 3-op-een-rij-spellen.
Maar eigenlijk is het 4 op een rij spel ook weer een afgeleide van andere gelijksoortige spelletjes met een zelfde soort opzet.
3 op een rij spelletjes werden uitgevonden in de oudheid, waarschijnlijk tijdens het Romijnse Rijk of het oude Egypte. Veel van de 3 op een rij spelletjes spelen zich daar dan ook vaak af en krijgen deze spelletjes ook vaak namen mee als Luxor Quest for the Afterlife of Heroes of Hellas
Tegenwoordig speel je niet meer met een bord tussen twee mensen in maar kun je achter je computer kruipen en binnen een paar minuten aan de slag.
Hoe speel ik 3 op een rij spelletjes?
Er zijn eigenlijk twee varianten van hoe je een drie-op-een-rij-spelletje kunt spelen.
Tegen de computer of tegen de klok. Er zijn echter ook weer eindeloos veel varianten op deze twee speltypen maar dit zijn de twee basis maieren van spelen.
Wanneer je tegen de computer gaat spelen dan zoekt de computer een willekeurige fictieve tegenstander voor je uit waartegen je het gaat opnemen, je tegenstander krijgt dan hetzelfde veld met diamanten als jij en degene die het eerst zijn of haar veld heeft leeggespeeld heeft gewonnen. In de meeste 3-op-een-rij-spelletjes speel je tegen de klok, je krijgt een vol speelveld met allemaal verschillende symbolen waarmee je combinaties moet maken. Vaak zitten er ook nog extra voorwerpen verborgen in het speelveld die jij met flitsende combo's vrij kunt spelen. Ondertussen loopt de zandloper mee en moet je binnen die tijd het veld vrijspelen danwel de voorwerpen hebben verzameld door jouw slimme combinaties!
---