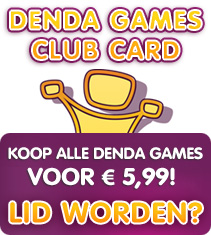 Top Gratis Downloads - Bundels
Denda Bundels
Ben jij een echte liefhebber van een spellen series? Dan zit je op de Bundel-pagina van Denda Games goed, maak je spellen serie compleet! Download ze nu en begin direct met spelen.

Sorteren op:
Naam
Laatst toegevoegd

Alle bundels spellen
Denda Games Bundels
Wat zijn Denda Games Bundels?
Denda Games heeft iets unieks bedacht namelijk "Denda Games Bundels" de naam zegt het eigenlijk al maar Denda biedt haar online klanten nu de mogelijkheid om voor een zeer scherpe prijs verschillende spelletjes aan te schaffen in de vorm van bundels.
Maak je collectie compleet!
Door deze manier van aanbieden van spelletjes is er nu een prachtige mogelijkheid om je collectie Denda-spellen compleet te maken.
In deze bundels zitten altijd spellen van hetzelfde genre, brand of spellen die precies bij elkaar passen qua verhaallijn.
Als Denda-fan heb je nu dus de mogelijkheid om tegen een gereduceerde prijs de beste spellen aan te schaffen daar waar je op andere game-websites meer dan de hoofdprijs moet betalen voor dezelfde spellen.
Wekelijks nieuwe bundels op de website
Denda Games streeft ernaar om iedere week 1 of meerdere nieuwe bundels te presenteren op haar website.
Wanneer je geabonneerd bent op de nieuwsbrief krijg je de updates over de nieuw verschenen bundels automatisch in je mailbox!
Voorbeeld van een Denda Games Bundel
Een voorbeeld van reeds verschenen bundels zijn de House of 1000 Doors 2-in-1 Bundel en de Natalie Brooks 3-in1 Bundel. In de eerste bundel zitten beide delen uit de "House of 1000 Doors" serie en in de tweede bundel zitten alle drie de delen uit de klassieke Natalie Brooks-serie, die Denda Games eerder heeft gereleased op haar website.
Normaal gesproken kosten alle spellen €9,99 per stuk. Wanneer je deze bundel aanschaft betaal je slechts €12,99 voor alle spellen samen!
Wacht dus niet langer en maak je collectie top spellen compleet met de bundels van Denda Games!
---